Easily Add Custom Parts to an Estimate
You can now quickly add custom parts to your project within Clear Estimates. As always, you can use one of our thousands of line items pre-built into the Clear Estimates system that have material pricing and labor costs already set (specific to your region, not a national average). That hasn't changed at all.
But, if you want to be able to quickly add a custom part to your project you can do so just by entering the description, material cost, and labor cost. It is very quick and easy. This is perfect for when you want to add a new item to your estimate without a lot of digging around in the database. Of course, you'll need to know how much an item costs for material and labor already but if you know that information you can put a custom item in your estimate very easily.
Follow These Easy Instructions
Hover your mouse over the "Add Part" button
Select "Create Custom Part
Select a Category, add a Description, and enter the Material & Labor Costs
Click "Save Part"
Here is where you can find the "Create Custom Part" option.
And here is how you add a description, material cost and labor cost to the item.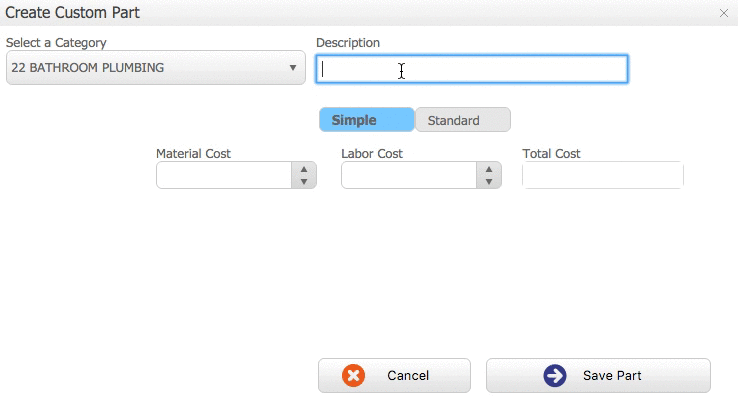 As always, if you have any questions our customer support is available to help you out!